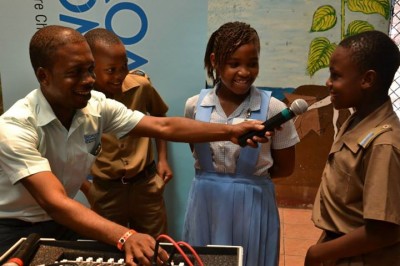 The great Nelson Mandela once said, "Children are our greatest treasure" and at the Broadcasting Commission we believe that our nation's youth are the future.
In May 2014, the Commission, as part of its ongoing programme of media literacy and digital awareness, launched media clubs in four (4) schools: Balcombe Drive Primary and Junior High, Calabar Primary and Junior High School in St Andrew; Flankers Primary and Junior High and Granville All-Age in St James.
The Media Clubs aim to, among other things, expose the students to the tools and practice of broadcasting while encouraging them to be responsible and active users of media and digital technologies.
In support of these objectives, the Commission facilitated training in radio station operations and radio production, courtesy of CARIMAC, Suncity Radio, Mello FM and others – donated voice recorders, flash drives and laptops for storing and editing content – helped the schools identify mentor media organisations.
Club Members / How the Clubs Work
Each club consists of an Advisor (teacher), Manager, Treasurer, Secretary, Programmes Manager, News Reporters and Presenters, Sports Reporters and Presenters, Music Researchers and Editors. The teacher (club advisor) works closely with both the students and mentor media organisation to oversee the smooth operation of the club and continued production of a variety of content for broadcast. At this time the schools are exploring a number of options for broadcast including the use of their public address systems, online platforms and licensed low power FM broadcasting stations.
With initiatives such as these Media Clubs, the Commission hopes that students will be energized to remain engaged in media and digital technology, inevitably having a positive impact on the Jamaican media landscape.
(159)