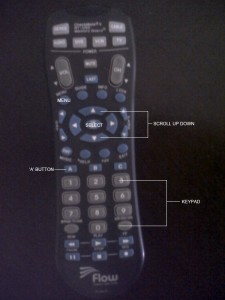 Parents take control of the content that your children are exposed to even when you are not there to supervise.Parental Control gives you the power to decide what content is appropriate for your children, and easily control what they watch — even when you're not around. In 2003, we issued the Children's Code for Programming which stipulates that cable service providers should provide ratings for content that is being broadcast. Use the Parental Control on your cable box to block programs by channel, title, ratings, or time and date.
The Tutorial
Step 1
Push the Menu button (Click the image above to reference the buttons used in this tutorial) This will bring up the settings menu as shown in the picture below.
Step 2
Use your up/down scroll arrows to scroll to 'Parental Control' and push the Select button. You will be given a prompt for pin entry to setup up your unlock code. (see image below)
Step 3
Push the 'A' button and lock code boxes will appear. Use your remote keypad to enter a 4 digit pin. You will be prompted to confirm your pin. Keep this pin safe as you will always need it to access Parental Control settings.
Step 4
Use your Up/Down arrows to highlight your option and the select button to change the settings for this option. (your left arrow will take you back to the main menu)
Once you are in the 'Parental Control' setting page (image above) you can set the following options:
Locking
Which is a general setting that will enable/disable 'Parental Control'.
Lock Ratings
This allow you to block access to programs by rating, example TV-MA, 'R' etc.
Lock Channel
Allows you to block specific channels.
Lock Time
Allows you to block access to content for specific time periods.
Lock Content
Allows you to block access to programmes by the nature of the content, example violence, sexual situations, language. You can also set your level of tolerance here.
Hide Adult Titles
Gives you the option to remove adult titles from your TV guide listing.
Decide what TV content is best for your family utilize the Parental Control feature on your cable box. If you have any questions or comments regarding this feature on your cable box, please leave us a comment at the bottom of this post.
(878)